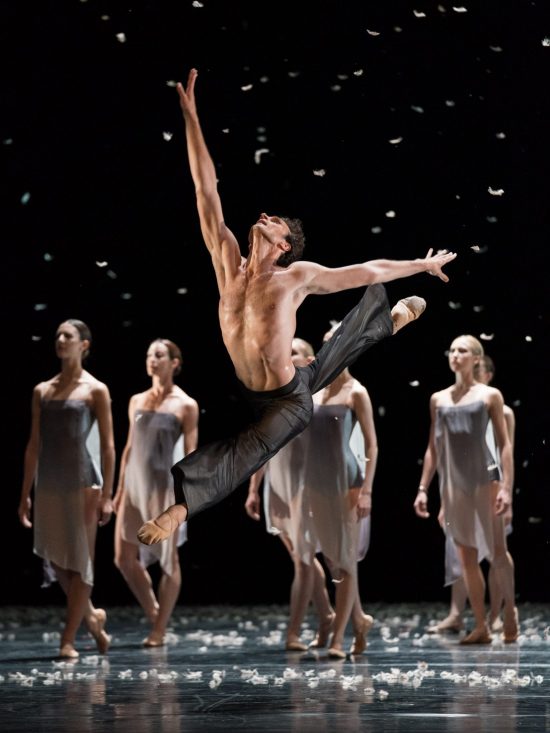 Roman Lazik, First Soloist with the Vienna State Ballet, was born in Bratislava (Slovakia) and studied at Eva Jaczova Dance Conservatory from 1989 until 1996. During his studies he participated in numerous international dance competitions, successfully showcasing the high standard of ballet in Slovakia.
In 1994 he reached the final of the International Dance Competition in Paris and the same year was awarded the First Prize at the Czechoslovakian Dance Competition in Brno.
Roman Lazik was a finalist of the prestigious Prix de Lausanne in 1995, winning a two month scholarship to study at the Boston Ballet School in the U.S.A.
In 1996 he competed in the renowned International Ballet Competition in New York, resulting in the first medal ever awarded to a Slovakian dancer. He won First Prize at the OTR Contest in Vienna (Austria) the same year and finished participating in dance competitions in 1997, reaching the finals of the Eurovision Contest of Young Dance Artists in Danzig (Poland).
One year prior to Roman Lazik's graduation at the Dance Conservatory he was already engaged as Soloist of the Ballet Company of the Slovak National Theatre dancing most of the main roles of the Ballet repertoire under the aegis of his Ballet Master, Rafael Avnikjan. He received numerous awards during that time including the Philip Morris Ballet Flower Award for the Most Promising Young Dancer of the Year (1995), the Best Dancer of the Year (1996), the Prime Minister of Slovakia's Prize (1996) and the Prize of the Literary Fund of Slovakia (1999).
After engagements abroad with the South African PACT Ballet and Tel Aviv's Israel Ballet, Roman Lazik returned to Bratislava as First Soloist of the Slovak National Theatre in 1999.
In 2000 he was offered the position of Demi-Soloist at Bavarian State Ballet in Munich where he quickly advanced to Soloist a year later and was subsequently appointed First Soloist in 2003.
Four years later Roman Lazik accepted an invitation to join the Vienna State Ballet and following the arrival of the Company's new Director, Manuel Legris in 2010, he was promoted to the position of First Soloist.
In the course of his career Roman Lazik has developed into the epitome of a Danseur Noble, interpreting the most important roles of the classical dance repertoire by renowned choreographers Marius Petipa, Rudolf Nureyev, Patrice Bart, Vladimir Malakhov, Ray Barra and Pierre Lacote. He received critical acclaim as Prince Siegfrid Swanlake, Duke Albrecht Giselle, Prince Nutcracker, Desire Sleeping Beauty, Jean de Brienne Raymonda, Solor Bayadere, James La Sylphide and Espada Don Quixote. Furthermore he danced numerous main roles in the most famous ballet pieces of George Balanchine, Jerome Robbins, Roland Petit, Frederick Ashton, Serge Lifar, Rudi van Dantzig and Harald Lander.
Roman Lazik's desire to extend his artistic range and potential made him a popular artist with renowned contemporary choreographers who created specific roles for him. He danced in ballet pieces from Jiří Kylian, Mats Ek, John Neumeier, William Forsythe, Hans van Manen, Lucinda Childs, Graeme Murphy, Twyla Tharp, Jorma Elo, Nils Christe, Boris Eifman, Jean-Christophe Maillot, Christopher Wheeldon, Edward Liang, Ashley Page, Patrick de Bana, Davide Bombana, Edward Club and Jacopo Godany.
Of particular importance in Roman Lazik's repertoire are the main male roles in neoclassical story ballets. His unique interpretations of Onegin Onegin and Romeo Romeo and Juliette (John Cranko), Armand Lady of the Camelias (John Neumeier), the Student des Grieux Manon and Crown Prince Rudolf Mayerling (Kenneth MacMillan) demonstrate his scope of dance combined with finely tuned acting skills.
Roman Lazik has danced on the world's leading ballet stages including the Mariinsky Theatre in St.Petersburg, the Bolshoi Theatre in Moscow, the Semper Opera House in Dresden and the major theatres of Paris, Tokyo, Berlin, Hamburg and Leipzig.
He has proved himself an excellent partner in all aspects and has danced with internationally acclaimed prima ballerinas Lucia Lacarra, Polina Semionova, LisaMaree Callum, Maria Eichwald and Uliana Lopatkina.
Invitations to perform at Gala events and make guest appearances has taken Roman Lazik throughout Europe as well as U.S.A., Canada, Japan,China, India and New Zealand. In Vienna he performs in numerous artistic charity events and dances at the NewYear's Concert of the Vienna Philharmonics and the Vienna Opera Ball.